Okay, it's impossible to ignore now, kitten heels are the shoe for Spring 2018. The kitten heels trend is fierce. While they may have seemed a bit 'old lady' just a year ago, they're back in big way. Every major designer has put their spin on the micro heeled shoe. Prada and Miu Miu are in, so are Balenciaga and Victoria Beckham. I size up the trend here and give some hot wearing tips.
Offering lift with mobility and a chic silhouette, kitten heels are comfortable, cute, and versatile. This killer combo makes them the perfectly balanced footwear option as we finally move into warmer weather. You can slip them on as you head to the office in the morning, then pop out afterwards for a drink while staying on point. You can also take them to the park for a weekend stroll without killing your feet, then head on over to a fancy restaurant dinner date without feeling self-conscious. Besides all that, I have to admit it's nice to be showing some skin after a winter of entombed feet!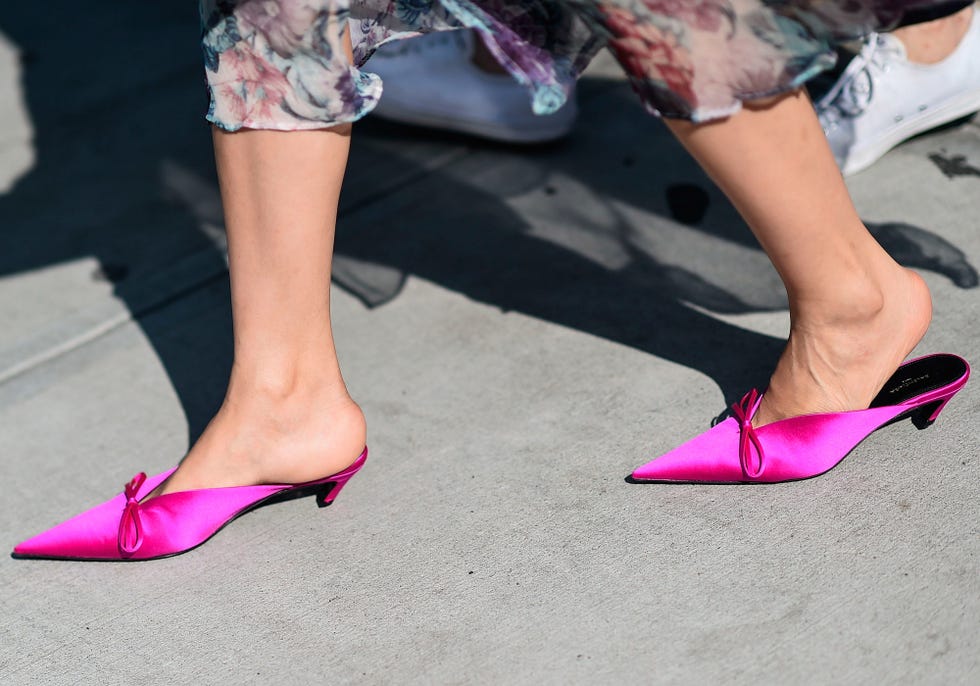 The Kitten Heels Trend Pleases Demna
Just in case you needed further confirmation that, yes, they're actually cool again, Balenciaga's Demna Gvasalia has given kitten heels his blessing. The label's signature 'slash heel' brings a razor-sharp intensity to the style, bringing fetish gear intensity to the world of luxury designers. A range of slash heel ankle boots and the eye-popping, outrageous satin knife mules strike the perfect mix of classy, dangerous, and sexy in a freshly original way.
Victoria Beckham Punks Up Kitten Heels
And, just in case you needed further confirmation that kitten heels are comfortable, check out Victoria Beckham tooling around in a pair of her label's own while on crutches this past February. True to her defiant attitude, her label's slingback pumps take a punky approach to the style, with vibrant color, cut-out detailing, and flat stud accents. If you're going for attitude with class, I would give a big thumbs up to this style.
Prada Kitten Heels Mix Class and Color Splash
Prada, meanwhile, goes in for some eclectic but traditional-leaning pieces, presenting another twist on the style. This season's offerings see a classic silver-tone metallic leather piece, as well as more ornamental offerings with contrasting bow and fabric patterns accentuating a classic leather cut-out profile. The fabric-clad pieces also feature covered heels with inset metal accents for a splash of opulent shine.
Make the Kitten Heels Trend Your Own
There's a lot of variations on the style this season, to be sure. In the end, it's all down to what kind of impact you want to make coming out of the big winter freeze. Pair them with your casual top and jeans to elevate your off-duty outfit to chic status, or go all-in with a power suit or breezy dress. One thing's for sure, kitten heels are a must-have going into the spring and summer, so make a choice and make them your own!